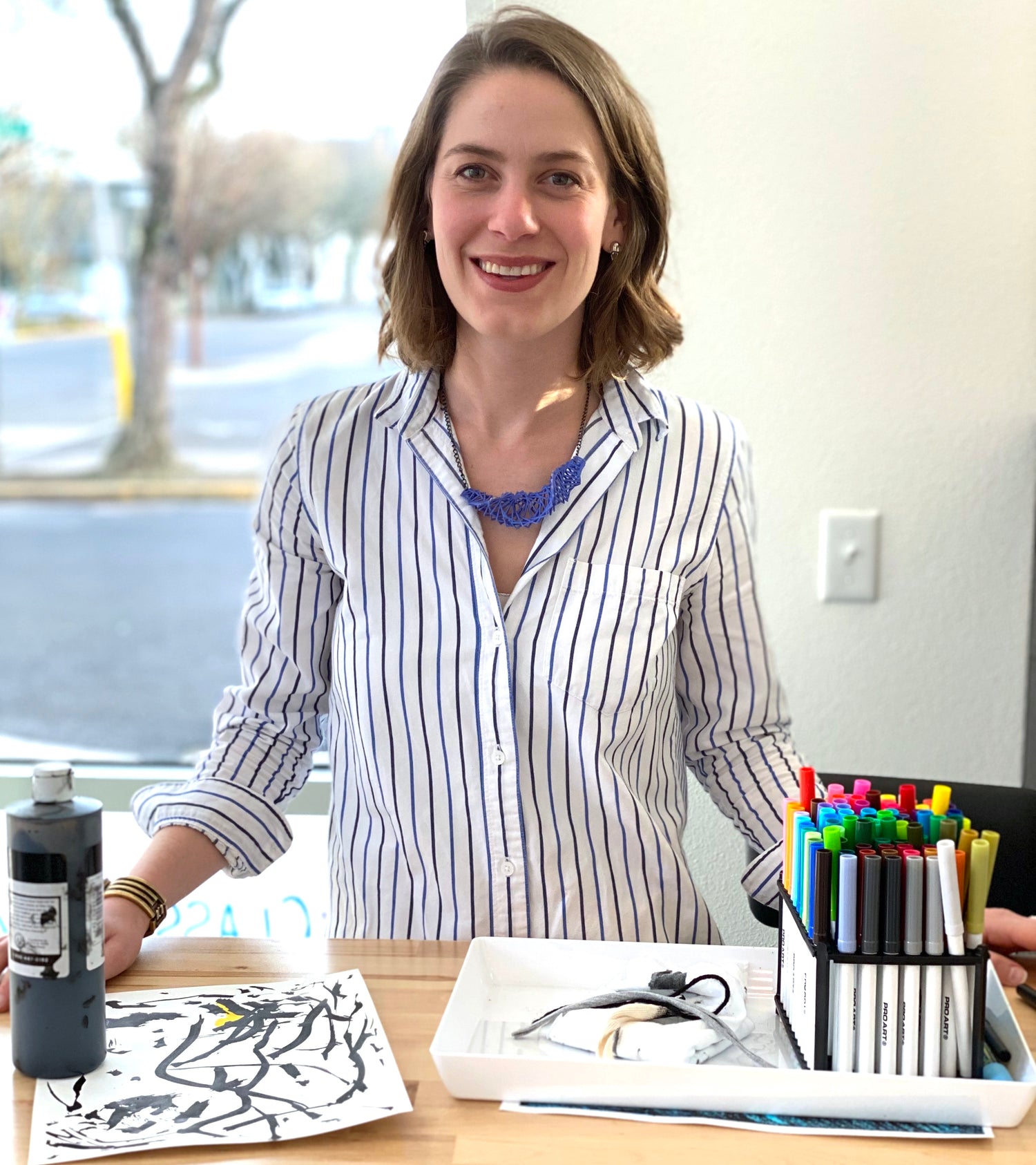 Why Render?
While many are pulled towards creative pursuits for well-being, several barriers are common. For one, it can be difficult to find the time, mental and physical space, and inspiration that is needed for the most meaningful ongoing practice. Non-inclusive narratives about creativity also set up the illusion that creativity is a "have" or "have not" skill.
Research has shown us that spending time on creative pursuits is both enjoyable and beneficial to our mental health. We also know that creativity, like mental health, is a state of mind that fluctuates, and they are mutually impacted by our active effort and attention. 
Render provides the structure and support for an accessible, gratifying, and regular creative practice that intentionally supports your mental health. Every detail is anchored in the latest research in psychology, mental health, and creativity, so that everyone feels welcomed, calmed, a little challenged, revived, and inspired. 
FAQ
Do I need previous experience with art to enjoy these classes?

None at all! Every class is designed to be accessible to all levels of creative practice.

While classes will never define specific expectations for the outcome of a creative experience, you can expect plenty of detailed arts demonstrations and support for your process overall.
Why don't I see any examples of what I can make?

Because each of us works a little differently, and no two creative journeys are the same. 

While every class provides detailed demonstrations about how materials can be used, the process is also left open-ended, encouraging you to explore and uncover limitless pathways to new ideas.

This helps you build resilience in the face of the unknown, while also creating a comfortable foundation for venturing into new territory.
Is this something I could do with friends, family, or colleagues?

Absolutely! If you're looking for a creative way to connect with others or want to host a unique gathering, either in person or virtually, you're in the right place.

Order classes and materials for everyone in your group, or reach out reach out here for information about group events.
Is this something I can do on my own?

Certainly! This can be a great way to outlet for those moments you have to yourself, but also know you'll never be totally on your own!

Classes are always there for ongoing support and structure, even when you're protecting your creative "me time".
What kind of space or set up do I need?

You really don't need anything fancy! A flat surface helps, and you can always use your box to create one in pinch.

Because everything packs away so compactly into your Render Box, you can take your creative practice just about anywhere you would take a book or laptop.

A space where you can minimze distractions is generally recommended.
What materials do I need? Can I use my own?

Every single material that will ever be used in class demonstrations is included in The Render Box. (Water is the one and only exception....truly!)

You are certainly welcome to use your own if you prefer, and you will receive a list of recommended materials both in the online class and digital handbook.

That being said, using your own materials may affect your overall experience.

Classes and demonstrations are based upon the benefits of very specific sensory details and physical aspects of the materials Render offers, so some of the content in classes may not feel as applicable if you are using your own materials.
Is this a replacement for therapy or other mental health support?

While everything available to you is grounded in the research coming out of psychology, mental health, art therapy, and creativity, this is by no means a substitute for therapy or mental health treatment.

Fore more details, see the Terms and Conditions.